Welcome to Cal's Horse Minerals
THE

FOUNDATION OF EQUINE HEALTH MADE RIGHT HERE IN COLORADO
For your equine's health and well-being, minerals are as essential, if not MORE important than the forage they eat.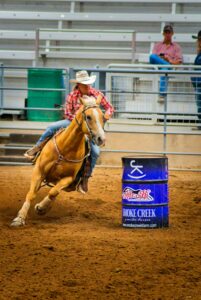 Plants have unique nutritional contents because they absorb minerals from the soil in which they grow. By analyzing these plants used as forage as well as the soils it grows in, Cal Stout has developed mineral formulas categories to balance equine nutrition. His proven research shows that horses need MORE foundational minerals and vitamins than they typically receive, and he has balanced his formulas based on the vitamin and mineral deficits in each type of equine forage. These minerals and trace minerals aid in allowing your horses system to all work efficiently, thus allowing them to absorb their forage better and keep them in peak condition.
It is time to try the time tested, approach to good health.
Listen to a Podcast at The Horse.com conducted by Claire Thunes, PhD, Equine Nutritional expert, and find out how supplements can help provide your horse important trace minerals that might be lacking in hay.
Our Founder and History of Cal's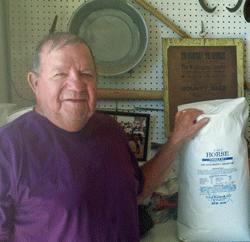 Cal Stout was born and reared in west central Missouri, on a Hereford ranch. The ranch consisted of a show barn for the Hereford cattle. These cattle were fed twice daily and fitted for show. Thus began Cal's extreme interest in feeding and nutrition.
After serving in the U.S. Army, Cal moved to Colorado and enrolled at Colorado State University as an Animal Nutrition major. After graduation, he started a laboratory testing business in Scottsbluff, NE. The lab tested soils in the western states for trace minerals and worked with fertilizer companies to assist in results for their fertilizers. This provided the opportunity to do research on trace minerals and soil tests in the west (which included five trace minerals). The goal from the beginning was to improve the quality of the crops grown (for human and animal use) in quality not just quantity. What was found was TRACE MINERALS made the difference. The minerals not only improved the quality and quantity, they helped to reduce diseases and harmful insects.
After thirteen years, Cal sold his interest in the testing lab and started a manufacturing facility in Colorado. The company was active in most western states, and focused on beef and dairy operations, where it formulated over 20 formulas of minerals and vitamins.
In 1989, he started G-Cal Research, where he continued to manufacture supplements from the operation, but placing a priority on equine supplements. The lab performed substantial testing of equine hair in order to correlate mineral contents and favorable horse responses from the supplement program. Again, trace minerals work when used properly and in balance. Sadly, we lost Carl last year. He will be missed!
Sandy Panagini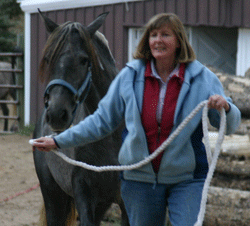 Born in Washington DC, my exposure to horses was only at the local riding stable and during summer camp in Pocono, PA (which I thought were mountains!). I always dreamed of having horses, but that did not happen till much later in life.
I graduated college with a BS in Food and Nutrition Education and taught school for a year. Over the summer, I worked in the Food Service Industry, and loved it so much, I did not return to teaching. For the next 35 years, I worked with such top companies as: The Pillsbury Company, ConAgra Foods and The Schwan Food Company.
In 1987 I got married, and my husband and I moved to Colorado mountains, and I finally achieved my dream of owning a horse. My husband Bob and I now have our mountain ranch, where we raise our own hay and Andalusian horses.
I have been using Cal Stout's Minerals and Vitamins for my horses for many years, and am excited for other horse owners to discover how much their horses will benefit as mine have.
Bob Southard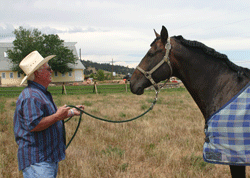 Born in Washington DC and raised near the Chesapeake Bay, my childhood was a time of fishing, boating, pony rides and going to school. Upon graduating I enlisted into the Navy and did a time during the Vietnam era. After that, I graduated with a degree in Accounting from the University of Maryland and passed my CPA. I then started on a exciting road which entailed working for a large CPA firm, to a large contractor for radio and telephone communication systems, and wound up working for a very prominent man overseas. My life was lots of travel across the world and experiences that many could not imagine here in the states. Coming back to work in the states, I dabbled in start-up companies and IPO's.
I had always dreamed about being out west, and consequently my wife and I purchased a ranch and presently own a number of horses. We met Cal and have been enamored with his wealth of knowledge and his spirit. Continuing the tradition of supplying mineral supplements for horses, and the benefits gained, is very satisfying.